As cities and countries around the globe are ordered to shelter-in-place while the curve for COVID-19 is flattened, there is no denying that the demand for top-of-the-line virtual meetings is on the rise. It's possible that the virtual meeting trend will extend into the future as live meetings and travel slowly rebound once the pandemic is contained.
As a result, many are looking for ways to elevate their virtual meetings by integrating unique technology solutions that transform the average encounter into a captivating, interactive learning experience for their viewers. The best way to accomplish this is via an augmented reality delivery solution.
This article will address the definition of the term "Augmented Reality", discuss how companies can employ this unique technology in their virtual meetings, and explore inputs that can be incorporated in a virtual meeting environment that uses augmented reality solutions.
What is "Augmented Reality?"
Augmented Reality (AR), in the world of meeting production, is a technology solution that places your live presenters into a computer-generated environment. Using a combination of green screen technology, broadcast quality cameras with sensor capabilities and traditional audio-visual equipment, live speakers presenting from a studio setting are placed within a virtual environment that moves with the camera to create a seamless look.  
A form of AR technology is used regularly on TV broadcasts. For example, when the weather person  appears in the middle of a rising flooded area during their weathercast from the TV studio.  It is extensively used by the major networks during all NFL games for player introductions, game stats, and replays.

How can companies use AR to Transform Their Virtual Meetings?
AR technology upgrades are the perfect tool to transform any virtual meeting from ordinary to extraordinary. With very little space, a green screen area can be set up to host the meeting. Then, using as few as one or two live presenters in studio, a dynamic virtual meeting experience can be crafted to drive your content home.
The presenters will appear in a fully branded digital 3D environment that looks and feels real to the viewers. The host company can select from a template environment that is already build and easily can be custom branded, or they can custom create a complete setting in which the presenters will appear. As an added bonus the environment can change throughout the presentations to support the content and further messaging.
What Cool Elements Can Be Incorporated in an AR Environment?
Once the branded digital environment is created for the virtual meeting, the ways that content and live inputs can be incorporated into the AR experience are truly endless … limited only by the imagination!
Videos and graphics can be displayed on traditional looking screens built into the virtual set. Quotes and statistics can be displayed on lower one-thirds or tickers scrolling along the bottom or top of the screen or built into the scenic environment. Graphics and videos can be displayed on floating "windows" or presentation panes – these can even be translucent to allow for the background setting to show through and support the messaging.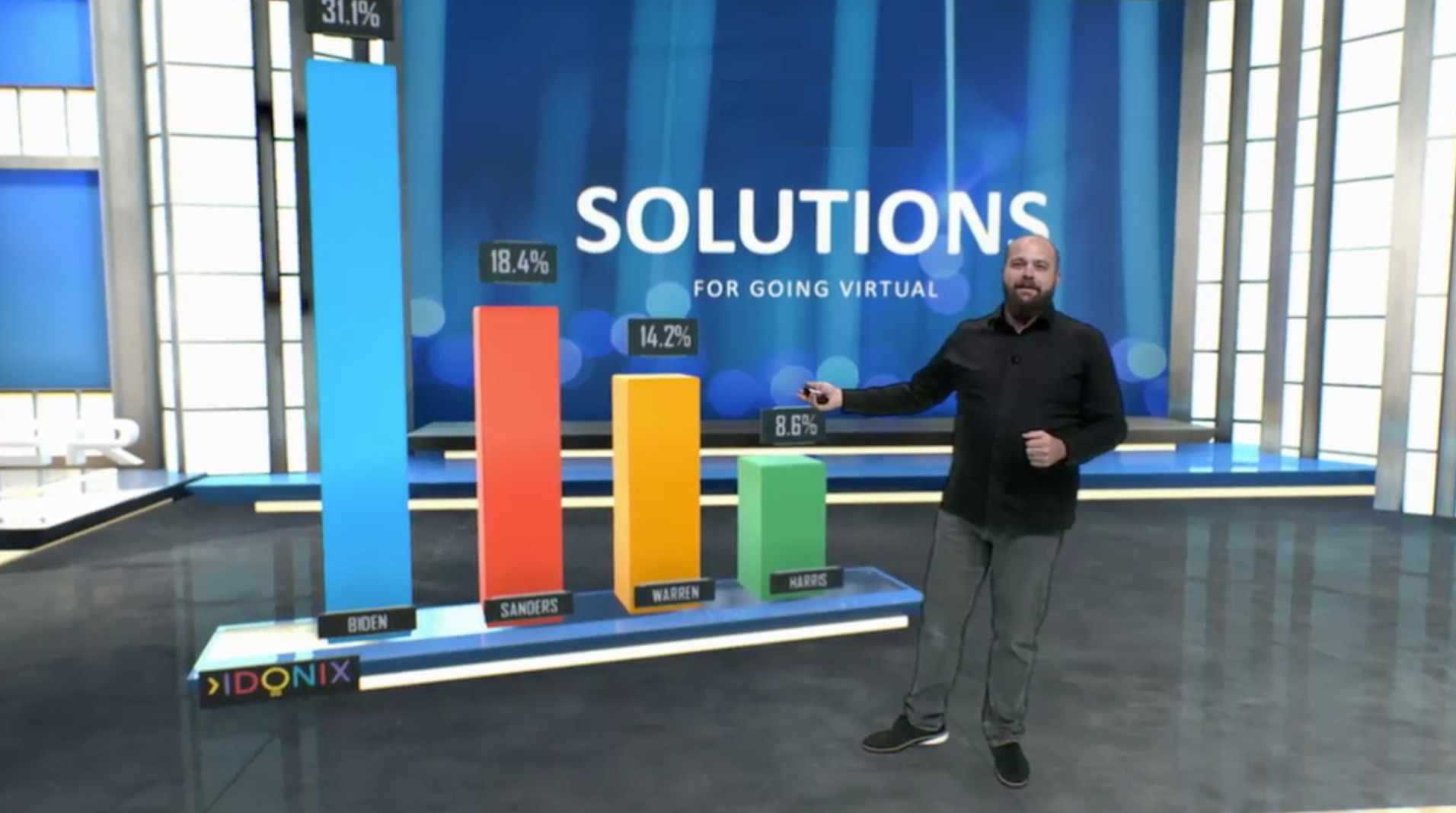 Virtual screens that appear within the AR setting can display pre-recorded or live presentations transmitted over live video meeting platforms like Skype or Zoom. These speaker presentations can even occur in front of a green screen background set-up quickly and easily at someone's home office to add interest, branding, motion graphics, etc. By utilizing a platform such as Slido, audience response data can easily be displayed on three-dimensional real time animated graphs and charts registering audience responses. And for an even more unique twist, 3D rendered products can fly into the AR space for 360-display and animation.
AR settings allow for a blend of real furniture and scenic pieces in the forefront to give the presenters a physical environment to work in and add to the realism for the viewer. Or the environment can be fully computer generated and desks and set pieces can be virtually generated.
For a quick sneak peek of some of this technology in action, please take a moment to view the video below.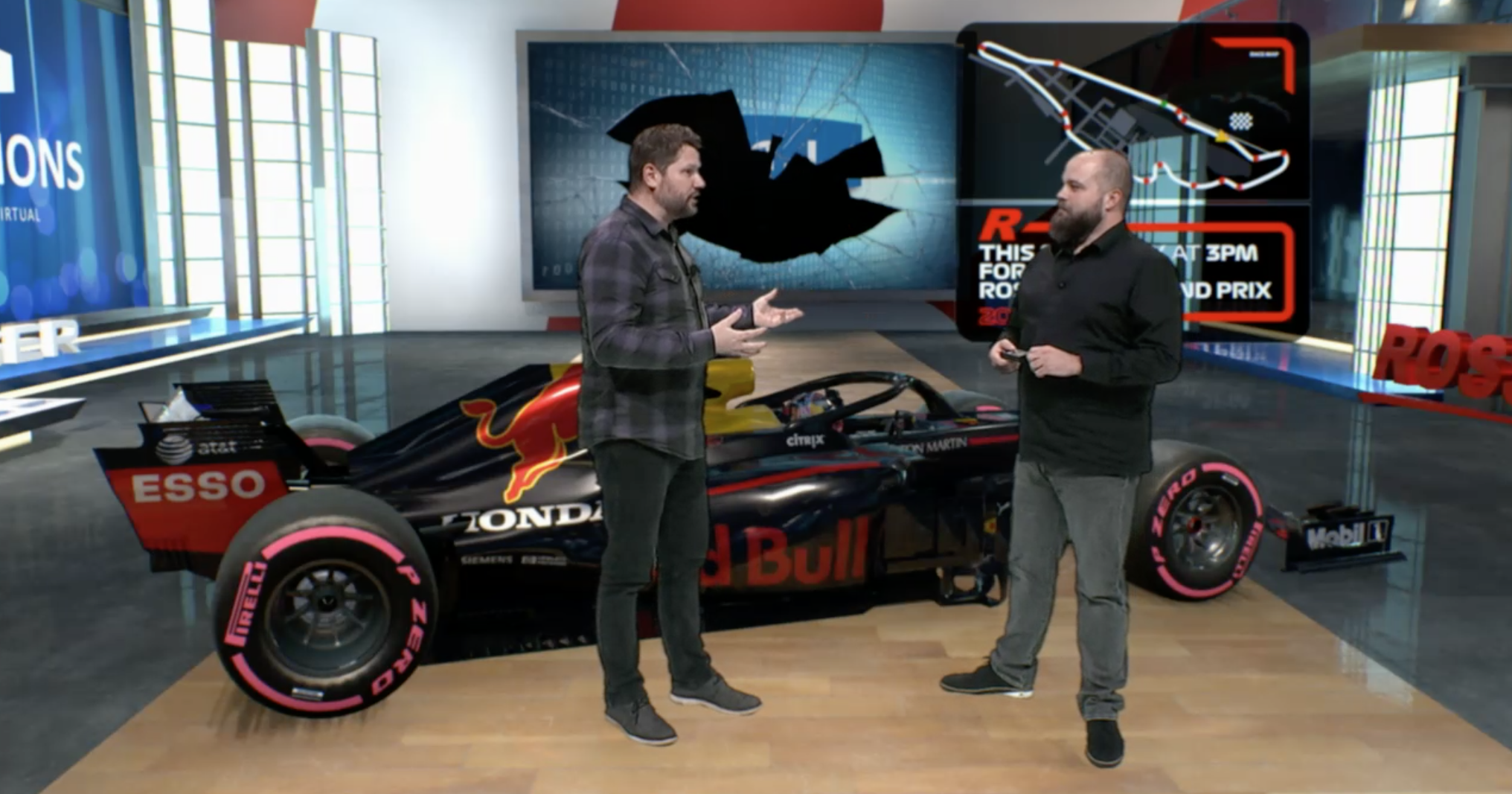 The world of augmented reality has the ability to transform virtual meetings in a way that will revolutionize the viewers' experience. Blending creativity, content and talented presenters with technology, virtual meetings can be artfully produced to ensure viewer engagement while maximizing the return on messaging.
Alison Kieckhafer is the CEO, Chief Event Officer at The Event Lounge. If you want to learn more about how The Event Lounge team can help you produce your next virtual meeting, please send us an email. We would be thrilled to assist!